Hi! We're Linley+Lauren...
besties, branding + business enter"train"ers, motivational speakers and the boss moms behind Working Like Mothers.

Around two years ago we felt a conviction to take better care of our faith, our family and ourselves, so we stepped away from our corporate careers to create a business – LP2 Boutique Agency -  that would allow us the means and the flexibility to do just that.

The funny thing about God, though, is that he sees a much bigger picture than we are capable of even dreaming, and He soon revealed His bigger purpose for our business. If we felt the conviction to take better care of the blessings He entrusted to us, weren't there others who felt the same? God had been preparing our hearts by helping us realize that our needs as working moms were the same as so many others. Just like that, the focus of our purpose quickly expanded beyond just taking better care of who and what matters most in our lives through our social media marketing business to helping others do the same in theirs.

Just a few short weeks after our newfound purpose was impressed upon us, the leader of a local working moms group in which we were members reached out saying she was ready to pass the baton on to someone else. We immediately knew that this group was meant for us and was supposed to serve as the foundation of a much bigger movement. Just like that, Working Like Mothers was born.

Today we're two moms on a mission to create that national movement of working moms supporting each other and each other's businesses. As mompreneurs, we know exactly what it means to work like a mother… It's being a master builder of businesses AND Legos. It's driving the kids to practice and driving your career forward. Pulling all nighters with your babies and your biz. Working on your dream job and wishing your littles sweets dreams. Here's the magical part, mamas – we believe that you CAN have it all, but you don't have to do it alone.

The work you are doing is important, both in the workplace and at home. Let's learn from and lean on each other, friends. Join us, and let's work like mothers together.

Take Care,
Linley Paske + Lauren Pasqualone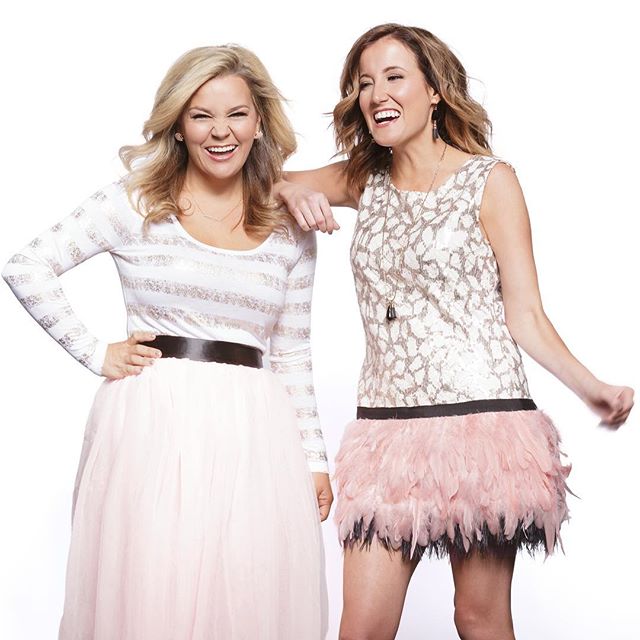 Linley (left) is married to her high school sweetheart David. They're the proud parents of sons Peyton (12)
and Palmer (10).
Lauren (right) is married to her college sweetie, Joshua. They have one very special daughter, Penelope (7).
Keep your event audience on the edge of their seats (and jumping out of them!) with a keynote or breakout session from Linley+Lauren.
Find out more >>