This Thursday, boss moms across the country will meet for their local Books + Brew to discuss the lessons in Simple and Fun Goal Setting Strategies for Busy Moms! by Alexa Bigwarfe. Here's our take on this month's Working Like Mothers book club selection:
---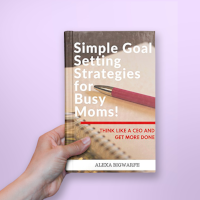 Ever noticed the advice in some business books just doesn't apply to working moms?
"Wake up at 4 a.m. to get more done," they say... Sounds great, unless you're exhausted from being up all night with a crying baby or you've got to get multiple kids ready and out the door for school.
We working moms are special, and so are our needs. That's why we loved this author's mom-centric approach to setting goals. Not only are her strategies specifically designed for mothers, but this straight-to-the-point book is a fast read that can be squeezed in the margins of your day.
Reading fluff? Ain't nobody got time for that! Especially boss moms at Christmas time!
---
Check your chapter's event calendar to get details on the book club meeting in your area. Find your local chapter >>
Read more about Simple and Fun Goal Getting Strategies for Busy Moms! and snag the e-book at https://www.amazon.com/dp/B01BHBMHVU/.